Check out Retire Now Detroit with Russ Strickler
Packed with professional advice and tips, Russ will guide you through the intricacies of retirement planning and help you make informed decisions for a help protect future.
Catch Retire Now Detroit every Saturday from 6-7am on WXYZ-ABC. Watch Now!
Investment advisory products and services made available through AE Wealth Management, LLC (AEWM), a Registered Investment Advisor. Insurance products are offered through the insurance business Strickler Financial Group. Strickler Financial Group is [also] an Investment Advisory practice that offers products and services through AE Wealth Management, LLC (AEWM), a Registered Investment Adviser. AEWM does not offer insurance products. The insurance products offered by Strickler Financial Group are not subject to Investment Advisor requirements. Please remember that converting an employer plan account to a Roth IRA is a taxable event. Increased taxable income from the Roth IRA conversion may have several consequences. Be sure to consult with a qualified tax advisor before making any decisions regarding your IRA.Investing involves risk, including the potential loss of principal. Any references to protection, safety or lifetime income, generally refer to fixed insurance products, never securities or investments. Insurance guarantees are backed by the financial strength and claims paying abilities of the issuing carrier. This radio show is intended for informational purposes only. It is not intended to be used as the sole basis for financial decisions, nor should it be construed as advice designed to meet the particular needs of an individual's situation.Strickler Financial Group is not permitted to offer and no statement made during this show shall constitute tax or legal advice. Our firm is not affiliated with or endorsed by the U.S. Government or any governmental agency. The information and opinions contained herein provided by third parties have been obtained from sources believed to be reliable, but accuracy and completeness cannot be guaranteed by Strickler Financial Group.This radio show is a paid placement. 2067881-11/23
Articles by Russ
Check out Russ' articles for Kiplinger, one of the nation's leading publishers of investing, business, tax and personal finance news.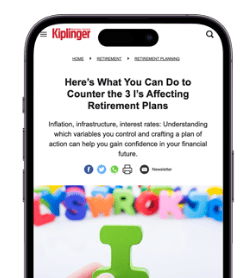 Here's What You Can Do To Counter the 3 I's Affecting Retirement Plans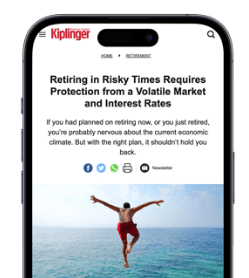 Retiring in Risky Times Requires Protection from a Volatile Market and Interest Rates
Request your complimentary copy today!
Ready to Cook Up Something Special for Retirement?
From understating the impact of longevity to exploring tax-efficient strategies and learning how to leave a lasting legacy for your loved ones, Russ' book covers all you need to begin taking control of your financial future.